KT Holiday Schedule
As we approach the holiday season, please be sure to take note of the following special observances that KT will be closed for. Please also note that KT will be closed for the entire Christmas weekend (12/24-12/26), but will only be closed on 12/31 & 1/1 for New Year weekend. All students are expected to be in class on Sunday, January 2nd, 2022.
December 24th-26th – No KT Classes (Christmas Observance)
December 31st-Jan 1st – No KT Classes (New Years & New Years Eve Observance)
January 2nd (Sunday) – First day of KT's 2022 classes
January 7th – Friday classes shift from 4-6pm to 5-7pm
---
Biden Administration Pushes New 'Test-to-Stay' Strategy To Keep Kids In School
"If exposed children meet a certain criteria and continue to test negative, they can stay in school instead of quarantining at home," Centers for Disease Control and Prevention Director Rochelle Walensky said during a press briefing.
The new strategy leans on a "test-to-stay" policy, in which students who have been exposed to the virus but show no symptoms can remain in school as long as they test every day, or no less frequently than twice a week.
The policy would replace current CDC guidance, which recommends children who have been exposed quarantine for up to 10 days – a policy that's shuttered whole classrooms for weeks at a time and made it difficult for educators to help students regain the academic, social and emotional losses incurred since the onset of the pandemic.
---
Khan's Tutorial Announces NEW Referral Program
This new referral program allows for families to recommend Khan's Tutorial another family, after which BOTH families will receive a discount! It is important to note the discount is only valid if the family who has sent the referral is named during the process. As the New Year rolls in, lets aid one another in tackling another Pandemic school year!
All families will be eligible for a referral discount if
The family they refer signs up for and pays for a package
Names them as the referrer
BOTH families will be eligible to receive a $50 discount
The new family will receive this discount with their first payment
The enrolled family will receive this discount on their next package
---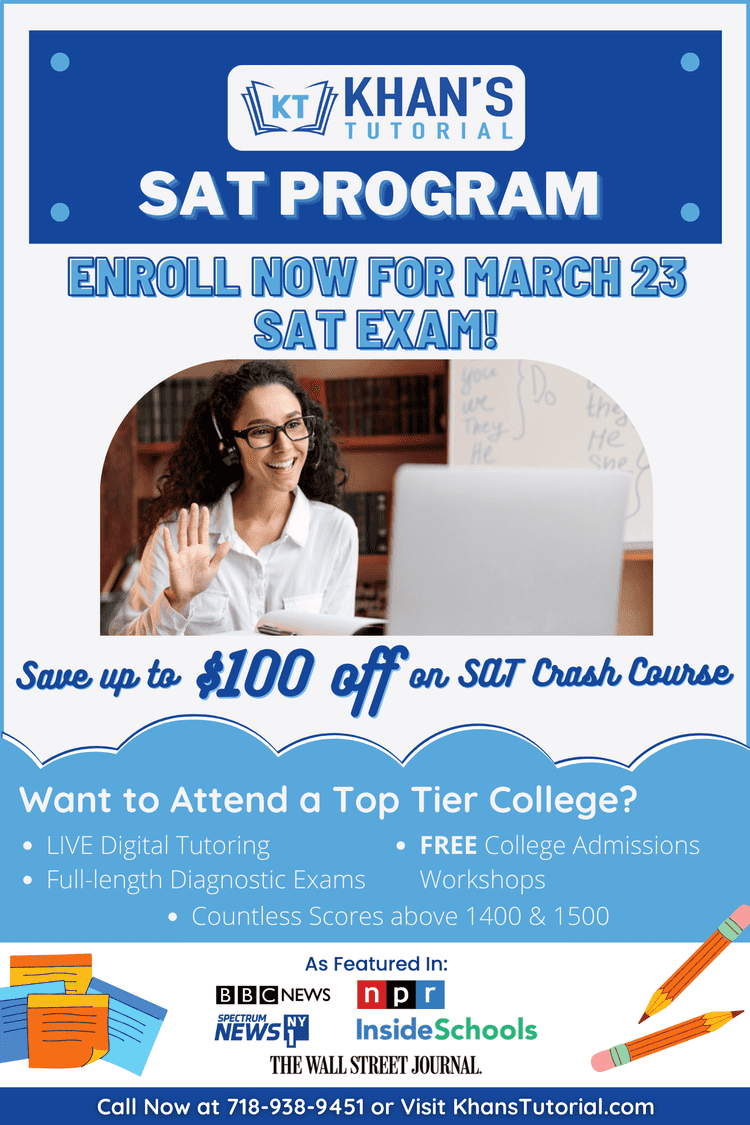 ---
NYC Schools Will Increase COVID-19 Testing To Stay Open
New York City will increase COVID-19 testing in schools when the holiday break ends next week in an effort to keep classrooms open despite a surge in infections due to the highly infectious omicron variant of the virus, Mayor Bill de Blasio announced Tuesday.
New York state will provide the city's public schools with 2 million at-home test kits so that tests can be sent home with students if a classmate tests positive, de Blasio said, and students who test negative won't have to quarantine.
Two clear messages we're sending loud and clear," said Adams, who joined de Blasio's virtual coronavirus briefing. "Your children are safer in school. The numbers speak for themselves. And we are united to make sure they continue to be safe."
New York City's public school system, the nation's largest with about a million students, was one of the first in the nation to reopen to in-person learning after the pandemic hit in 2020, but frequent school or classroom closings due to COVID-19 cases proved disruptive. The new approach will guarantee more consistency, de Blasio said.
---
Khan's Tutorial Fall Program Schedule Announced
Common Core –
Friday, Saturday, and Sunday
SHSAT –
Saturday/Sunday Group Class (Morning 10am-2pm, Afternoon 12pm-4pm)
7th grade FREE SHSAT Workshops in January extended to January 21st & Friday January 28th
SAT –
Fall SAT Program – March Test Takers- March 12th SAT Exam
Sat, September 4th – Sunday March 6th – 32 Classes from 10 AM-2 PM & 12 PM – 4 PM (1 day/week)
SAT Headstart Program – 9th & 10th Grade Students
Class 1 – Saturday 10AM – 2PM
Class 2 – Saturday 12PM – 4PM
Class 3 – Sunday 10AM – 2PM
Class 4 – Sunday 12PM – 4PM
Dates:
Start Date: Dec 4, 2021
End Date: June 26, 2022
GPA –
Saturday AM: Biology, Chemistry, Physics, Earth Science
Saturday PM: Algebra 1, Algebra 2, Geometry, Pre-Calculus
Sunday AM: AP Biology, AP Physics
Sunday PM: AP Calculus AB, English
---
Congratulations to our Khan's Students who have scored above a 1500+
Three Khan's Tutorial students have earned a 1500+ score on their August SAT!
Eva V: 1590
Fiyaz: 1510
Tawseef R.: 1510
Yamin R.: 1520
Yaqin R.: 1450
Hasin R.: 1560
Saqeef S.: 1400
Tasfiya M.: 1420
Zahra R.: 1440
Ahnaf A.: 1420
Namira H: 1480
Mritika: 1460
Arman A: 1440
Rayan R: 1420
Maliha T: 1420
Sheikh I: 1400
Mohammed S: 1580
We're looking forward to seeing many more great scores on the upcoming SATs!
---
FREE College Workshop Videos Available in Bangla and English
Please know that college applications have started this Fall for all 12th graders and that the deadline for Early Decision & Early Action is fast approaching this November.
Please view our FREE Bangla translated parent's workshop on college admissions requirements: https://youtu.be/64wkUYxMgF4
Please view our FREE Bangla translated parent's workshop on application timeline:
Please view our FREE English language workshop for students & parents here:
With deadlines fast approaching and the November SAT next week, time is running out to complete your best holistic application for college.
Please watch both videos closely with your child to ensure their understanding & success.
Call us to schedule your FREE 30 minute college counseling session with Dr. Khan, who earned his college counseling certification from Columbia University Teachers College.
---
Attached below is the link to the NYC DOE School Calendar for 2021-2022. In it you will find many resources such as holidays, parent – teacher conference dates, and testing dates for all elementary students.
---
Khan's Tutorial Policy Update
Starting this week, Khan's Tutorial will be requiring all students to keep their CAMERAS ON during instruction.
Why Is This Important?
This will help instructors make sure all students are attentive during lesson/classwork
How Does This Benefit Both Instructors/Students?
Students will be forced to minimize distractions while in class
Instructors don't have to guess if a student is paying attention or not
What Do You Have To Do?
Ensure your student has their cameras on and are paying attention to what their instructor requires
Khan's Tutorial Recorded Sessions Available
Khan's Tutorial will also be providing recorded session as a way to make up a missed class. We will now be allowing our students access to Zoom recordings of missed classes. These recordings will ONLY be available 10 days after the initial class date. Parents and students can access the missed classes by logging into their accounts on KTlearning.com and clicking "Access Content" for the class that they missed. It will provide the student with the recording and any other class materials. We recommend LIVE classes as they are the best resource and provide real time instruction, but these recorded sessions are a great way to make up a missed lesson.
---
Check Out Our Free College Research and Planning Workshop!
Khan's Tutorial has released their college research and planning workshop video. This video is a great free resource to parents and college bound students, as it answers a lot of questions students may have about where they want to go in the future. CEO Ivan Khan leads the workshop and tells us about his journey through the college process to becoming an MD. Dr. Khan answers many questions and offers different pathways to achieving one's dreams. Dr. Khan discusses the top schools for arts and humanities, business, finance, and law. He goes over the academic requirements as well as the SAT and ACT ranges that top schools look for. This workshop is a wonderful resource to watch with your family!