Important Dates
NY State Exams Grades 3-8:
Friday Feb 11 – Sunday Feb 13: NYS 2018 State Exam Diagnostic & Individual PTC
Friday Feb 18 – Sunday Feb 20: NYS 2018 State Exam Review
Friday March 18 – Sunday March 20: NYS 2017 State Exam Diagnostic & Individual PTC
Friday March 25 – Sunday March 27: NYS 2017 State Exam Review
Tuesday March 29 – Thurs March 31: NYS 2022 State English Language Arts ELA Exam
Tuesday April 26 – Thursday April 29: NYS 2022 State Math Exam
NYC Specialized High School Admissions (SHSAT) Grade 7:
Sat Feb 19 & Sunday Feb 20 – MANDATORY GROUP PTC Pre- DIAG
SAT, GPA, Advanced Placement (AP), College Admissions
SAT Head Start

Start Date – End Date: Dec 4 – June 26
Ideal Student Grade Level: Beginning 9 & 10
Number of Classes Per Week: 1 day/week
Target SAT Exam Date: Fall 2022

SAT Fall

Start Date – End Date: Sept 4 – Mar 6
Ideal Student Grade Level: Advanced 10 & 11
Number of Classes Per Week: 1 day / week (2 days / week beginning 1/ 29)
Target SAT Exam Date: March 2022 (In-school March 23), June 2022

Crash Course

Start Date – End Date: Dec 4 – Mar 6
Ideal Student Grade Level: 10 & Advanced 11
Number of Classes Per Week: 1 day/week
(2 days/week beginning 1/29)
Target SAT Exam Date: March 2022 (In-school March 23)
---
NYC Officials Keep a Lid on Data from Tests to Address 'Learning Gaps'
At this point in the pandemic, parents and students are aware that a lot of learning loss has occurred from the rapid changes in education. While learning loss seems almost inevitable due to the circumstances of the pandemic, getting our students back on track is a goal we all share.
"The education department's attempt to get a handle on that has included spending $36 million on a battery of assessments meant to measure what students know and track their progress after nearly two years of massively interrupted learning time. Schools are now in the midst of the second round of these tests, after administering an initial round in the fall."
The DOE is mandating a wide variety of tests that schools can use to accumulate data on learning loss, and to gauge where our students are now. However, many teachers are speaking out on how these time-consuming tests aren't providing much information, and whatever information it has collected is not being made available to the public.
"Even if the city's data were shared more widely, academics cautioned they might not be that useful for understanding the pandemic's impacts on student learning. Some schools administered the tests for the first time this year, meaning there might not be data to compare results. Schools were also given a menu of tests to choose from, which could further complicate comparisons. Some education experts said the types of assessments being given simply aren't that reliable and were wary of releasing data that could be used to unfairly judge schools."
---
Team Spotlight
This month the spotlight shines on our wonderful department leaders! They were asked to answer 3 questions:
Where do you see yourself in 5 years?
What is your biggest motivator?
What is your proudest moment in life?
Ashley J.
Ashley Jaiprashad
More about Ashley: Ashley Jaiprashad is the Director of the Common Core/State Exam Prep Department at Khan's. Ashley recently completed her master's degree in Information Systems with a concentration in Management and Accounting and is currently completing the final steps to her CPA certification process. Ashley had started her career at Khan's Tutorial in Sept 2016 as an Instructor at Ozone Park. After standing out in manager training, Ashley was promoted to Quality Manager, and very soon to Senior Manager. After Khan's Tutorial transitioned to a virtual platform, Ashley was promoted to the Director of the entire department. During her time in the role, Ashley has led a team of leaders to help countless families recover from learning losses during the pandemic, score 4/4 on state exams, and bring confidence back to school kids and their learning. 
Where do you see yourself in 5 years?
In 5 years, I see myself continuing to work with the CC team to make the department even stronger. I've already seen so much growth since starting back in 2016 and I'm so excited to see what the future holds for a department so close to my heart. I hope to be further established in my career as a CPA and maybe even get a few other certifications under my belt within 5 years. I've also thought about teaching someday since I've always had a passion for education (it's what drew me to KT!).
What is your biggest motivator?
My biggest motivator would probably be the feeling of getting over obstacles & helping others. I love the challenge of always working towards different goals. There's also no better feeling than helping students feel a little more confident about their academic futures.
What is your proudest moment in life?
My proudest moment would be the day I graduated from my master's program in 2020. It's hard to fully grasp the concept of what you're working towards until you're actually finished. That was something that I never could've imagined myself accomplishing at such an early age and it really didn't settle until I finished the program.
Ishaq C.
Ishaq Chowdhury
More about Ishaq: Ishaq Chowdhury is an SHSAT manager at Khan's Tutorial and currently a first year PhD student at Columbia University's Teachers College for his doctoral studies in Cognitive Science in Education. Ishaq had started his career at Khan's in the SHSAT Dept, while completing his bachelor's degree from Hunter College. As the organization transitioned to a virtual platform, Ishaq was promoted to SHSAT manager thanks to his leadership with teammates, teaching methods, background knowledge in cognitive science, and compassion for his students and families.
Where do you see yourself in 5 years?
I hope to have completed my PhD and start working in academia as a professor and researcher in educational psychology. I'd like to research how technology can be better incorporated into learning environments to aid teaching and student learning.
What is your biggest motivator?
My biggest motivator is my love for teaching. I had always wanted to be an educator and originally wanted to be a high school teacher. However, overtime I became more interested in the mechanics behind teaching and learning, so I shifted my goals to pursue a career as a professor, so that I could simultaneously teach as well as do research on teaching.
What is your proudest moment in life?
My proudest moment was when I was accepted into Columbia. I had spent over a year getting research experience so that I could try to get into a PhD program without having to get a master's degree first. After applying to 17 schools and getting rejected by almost all of them, it was a relief to finally got my acceptance letter from Columbia.
Tasmia P.
Tasmia Promi
More about Tasmia: Tasmia Promi is the Director of the GPA/AP Dept at Khan's Tutorial and currently a first-year medical student at the SUNY Downstate College of Medicine. Tasmia had started her career at Khan's in the High School GPA Dept as an Instructor since August of 2017.  After standing out in manager training, Tasmia was promoted to Director of the GPA/AP Dept, as she completed her Bachelor's of Arts in Biochemistry and Interdisciplinary studies with a minor in Psychology. Since Khan's went to a virtual platform in 2020, Tasmia's leadership helped build an outstanding GPA, AP program and curriculum that's already helped hundreds of students achieve incredible scores on their way to selective universities.
Where do you see yourself in 5 years?
In five years, I see myself as a person who has not only grown intellectually but emotionally. Although academic and professional accomplishments are rewarding, what is most rewarding is knowing that I have broadened my perspectives and passions. Within these next five years, I hope to see myself expand in my knowledge of the world, the people around, and of myself. Attaining this maturity and emotional growth will allow me to self-affirm that I am becoming the woman I wished to be when I was younger.
What is your biggest motivator?
My biggest motivation in my life is my mother. From a young age, I have seen her work tirelessly to help me become successful. She made sure that I had the opportunities that she didn't have. Therefore, when I feel overwhelmed by different challenges or obligations, I remind myself that I'm not only doing this for myself but for my mother as well. Her intellect, resilience, and kindness are just few of the many qualities that motivates me to become a person who embodies perseverance despite the various challenges I have faced and will face in the future.
What is your proudest moment in life?
One of my proudest moments is when I graduated from college. Growing up, I faced many barriers in my path to achieving my goals and success. While not they were not particularly easy to deal with, they shaped me to become resilient, ambitious, and hard working. Seeing the fruits of my labor when I graduated college and took a huge step towards my career path helped me realize the potential and capability I hold.
Faysal M.
Faysal Molla
More about Faysal: Faysal Molla is the Director of the SAT Department at Khan's Tutorial and a Biomedical Engineer at NYC Bellevue Medical Center. Faysal started as an SAT Instructor in October 2018. After helping dozens of his students achieve scores above 1450, Faysal was invited to manager training where his intuition, participation, and responsibility helped him stand out. After joining the SAT curriculum and Operations team, Faysal was later promoted to Director of the SAT program.
Under Faysal's leadership, Khan's Tutorial's SAT program has enjoyed a resurgence in popularity, reputation, and student success. By 2021, SAT students at Khan's had gained offers to countless selective universities, combined degree programs, oftentimes with generous merit-based scholarships.
Where do you see yourself in 5 years?
Completing my MBA and possibly pursuing pharmaceutical consulting or a healthcare consulting-related position.
What is your biggest motivator?
Friends and family being the first. I probably wouldn't be where I am now without their support. Careers wise it would be how making the right connections is always key.
What is your proudest moment in life?
Pursuing a career in healthcare during a pandemic right out of college. Starting off an internship in NJ to pursuing a full time in NYC in a few months just by making connections.
---
Mental Health Resources for Students Impacted by the Pandemic
The COVID-19 pandemic has thrust many of our lives in an unpredictable direction. Many adolescents have never experienced something this drastic, and as we're seeing it has definitely taken a toll on them. Mental health is not an easy topic to talk freely about, whether it be the stigma surrounding asking for help, or even just lacking the safe space to be able to talk about it freely. The pandemic has forced many of us to reconsider our priorities and view the trajectory of our lives in a different lens, and mental health should not be overlooked. It seems that now more than ever it is crucial to prioritize our own health, physical and mental.
Many adolescents have been forced to deal with things that none of us have ever encountered before such as adapting to school closures, missing time with family and friends, switching to new modes of learning, physical distancing, and quarantining alone at home. In a recent CDC study, it was revealed that the impact of the pandemic on teens was far greater for mental health setbacks, when compared to COVID-Respiratory ailments.
So many students and families thrive on interacting with our community, and connections with others can fuel us. Having to transition from what we knew as the norm to isolating ourselves has an effect on people that many may not be able to see, but one that we can all feel.
Seeking help can feel complicated, it might even seem easier to just "deal with it." However, at the end of the day if we are not taking care of ourselves, we cannot be expected to properly be present for others. Nowadays, finding mental health resources have become much easier. Below are two sites that many professionals recommend aiding you in the process of finding a mental health counselor:
NYC Get Well: This is a service provided by our city that helps you filter centers by insurance, borough, and program focus. Simply click "Find Services" and then search for whatever service you are looking for, whether its therapy, grief counseling, or family counseling.
Psychology Today: This is a search service that aids you in looking for therapists, psychiatrists, and treatment centers and it will filter by zip code and insurance.
It's very easy to look past mental health concerns but taking care of ourselves and our family is key to making it out of this global pandemic. While there might still be stigma regarding mental health, we must prioritize taking care of ourselves fully, not just physically but mentally as well.
If you or anyone you know needs help, please reach out to the National Suicide Prevention Lifeline at 1-800-273-8255.
---
Khan's Tutorial Free College Admissions Workshop Videos
Khan's Tutorial has posted a new College Admissions Workshop regarding "Knowing Your Career Path." College is a place where you are meant to explore your interests and navigate a wide variety of career paths.
This college workshop video covers:
Pastimes / Hobbies
Extracurriculars
Interests
Questions to ask yourself
Different fields to explore
This video is only in Bengali, but non-Bengali speakers are welcome to visit our YouTube page to access all of our college workshop videos!
---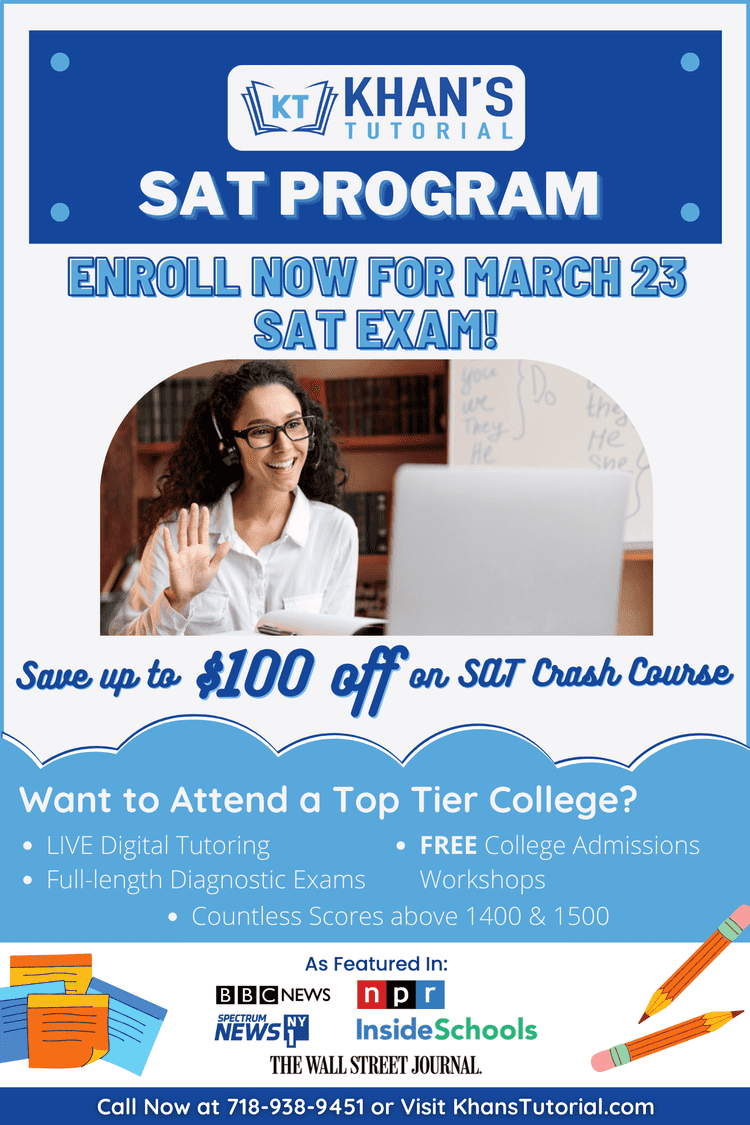 ---
Khan's Tutorial Announces NEW Referral Program
This new referral program allows for families to recommend Khan's Tutorial another family, after which BOTH families will receive a discount! It is important to note the discount is only valid if the family who has sent the referral is named during the process. As the New Year rolls in, lets aid one another in tackling another Pandemic school year!
All families will be eligible for a referral discount if
The family they refer signs up for and pays for a package
Names them as the referrer
BOTH families will be eligible to receive a $50 discount
The new family will receive this discount with their first payment
The enrolled family will receive this discount on their next package
---
Khan's Tutorial Program Schedule Announced
Common Core –
Friday, Saturday, and Sunday
SHSAT –
Saturday/Sunday Group Class (Morning 10am-2pm, Afternoon 12pm-4pm)
7th grade FREE SHSAT Workshops in January extended to January 21st & Friday January 28th
SAT –
Fall SAT Program – March Test Takers- March 12th SAT Exam
Sat, September 4th – Sunday March 6th – 32 Classes from 10 AM-2 PM & 12 PM – 4 PM (1 day/week)
SAT Headstart Program – 9th & 10th Grade Students
Class 1 – Saturday 10AM – 2PM
Class 2 – Saturday 12PM – 4PM
Class 3 – Sunday 10AM – 2PM
Class 4 – Sunday 12PM – 4PM
Dates:
Start Date: Dec 4, 2021
End Date: June 26, 2022
GPA –
Saturday AM: Biology, Chemistry, Physics, Earth Science
Saturday PM: Algebra 1, Algebra 2, Geometry, Pre-Calculus
Sunday AM: AP Biology, AP Physics 
Sunday PM: AP Calculus AB, English
---
Congratulations to our Khan's Students who have scored above a 1500+
Three Khan's Tutorial students have earned a 1500+ score on their August SAT!
Eva V: 1590
Fiyaz: 1510
Tawseef R.: 1510
Yamin R.: 1520
Yaqin R.: 1450
Hasin R.: 1560
Saqeef S.: 1400
Tasfiya M.: 1420
Zahra R.: 1440
Ahnaf A.: 1420
Namira H: 1480
Mritika: 1460
Arman A: 1440
Rayan R: 1420
Maliha T: 1420
Sheikh I: 1400
Mohammed S: 1580
We're looking forward to seeing many more great scores on the upcoming SATs!
---
FREE College Workshop Videos Available in Bangla and English
Please know that college applications have started this Fall for all 12th graders and that the deadline for Early Decision & Early Action is fast approaching this November.
Please view our FREE Bangla translated parent's workshop on college admissions requirements: https://youtu.be/64wkUYxMgF4
Please view our FREE Bangla translated parent's workshop on application timeline:
Please view our FREE English language workshop for students & parents here:
With deadlines fast approaching and the November SAT next week, time is running out to complete your best holistic application for college.
Please watch both videos closely with your child to ensure their understanding & success.
Call us to schedule your FREE 30 minute college counseling session with Dr. Khan, who earned his college counseling certification from Columbia University Teachers College.
---
Khan's Tutorial Policy Update
Starting this week, Khan's Tutorial will be requiring all students to keep their CAMERAS ON during instruction.
Why Is This Important?
This will help instructors make sure all students are attentive during lesson/classwork
How Does This Benefit Both Instructors/Students?
Students will be forced to minimize distractions while in class
Instructors don't have to guess if a student is paying attention or not
What Do You Have To Do?
Ensure your student has their cameras on and are paying attention to what their instructor requires
Khan's Tutorial Recorded Sessions Available
Khan's Tutorial will also be providing recorded session as a way to make up a missed class. We will now be allowing our students access to Zoom recordings of missed classes. These recordings will ONLY be available 10 days after the initial class date. Parents and students can access the missed classes by logging into their accounts on KTlearning.com and clicking "Access Content" for the class that they missed. It will provide the student with the recording and any other class materials. We recommend LIVE classes as they are the best resource and provide real time instruction, but these recorded sessions are a great way to make up a missed lesson.
---
Check Out Our Free College Research and Planning Workshop!
Khan's Tutorial has released their college research and planning workshop video. This video is a great free resource to parents and college bound students, as it answers a lot of questions students may have about where they want to go in the future. CEO Ivan Khan leads the workshop and tells us about his journey through the college process to becoming an MD. Dr. Khan answers many questions and offers different pathways to achieving one's dreams. Dr. Khan discusses the top schools for arts and humanities, business, finance, and law. He goes over the academic requirements as well as the SAT and ACT ranges that top schools look for. This workshop is a wonderful resource to watch with your family!